Window Graphics
Receive your own custom window decals from My Decal Printer
Turn any window into advertising space with custom window graphics
Entice each passerby with eye-catching window graphics and decals that make them walk in the door.
We can do individual decals or cover your entire window. Whether it's regular vinyl, etched glass, or frosted glass graphics, we are your #1 expert on designing, manufacturing, and installing custom window graphics.
Why do I need window graphics?
There are many reasons why you shouldn't put off getting window graphics applied to the glass surfaces of your business. Blank windows give a good and provide natural light, but they can also advertise for you in addition to all these other functions. Retailers, banks, and service providers rely on these graphics to communicate information about operating hours. Hospitals, government buildings, and libraries rely on these graphics to add personality to a normally un-personable building. Landlords and building owners rely on these graphics to sell and lease their buildings. These are just a few of the many reasons every business needs some custom window graphics for their glass surfaces.
- Durable

- Cost effective

- Versatile

- 24/7 visibility
Frosted Vinyl Window Graphics provide privacy and professionalism
Supply your office with privacy while simultaneously looking modern and professional with some custom frosted vinyl window graphics. This semi-opaque vinyl lets light through while still offering privacy by blocking people from actually seeing what's going on the other side. You can decide several different layout options when choosing your vinyl graphics. Company logos, custom designs, or even fully frosted glass surfaces are all possible.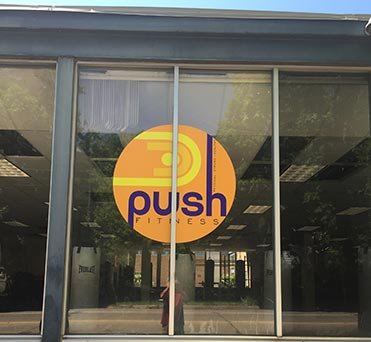 Custom decals and labels since 1988
Finishing Options
Products