Truck Door Decals
Order decals for your truck and let everyone know who's on the job
Let everyone know who's on the job with custom truck decals
Large graphics for semis

Company truck magnets

Perforated window graphics

Vinyl lettering for trucks
Every truck deserves a badge of recognition. Your companies truck is the workhorse of the business, and having a custom company decal on the door of your truck will let people know your company means business. Let your truck promote your business by carrying your logo, contact information, or company info 24 hours a day, 7 days a week. From 8 cylinder Fords to 18 wheel semis.
Turn your vehicle into a mobile business card with custom vinyl lettering
What better way to get the phone ringing than having your business contact information right on your vehicle for everyone to see? Advantage Signs and Graphics precision cut vinyl lettering will stand out on your company car. These decals are tested outdoors and are weather resistant. Having your companies name, phone number, email address, and social media handles is a extremely effective marketing tool to have at your disposal.

Consider your options when choosing a truck decal
When it comes to the type of decal you want for your truck you have several options to choose from. If you plan on applying your decal to the window, consider using a clear adhesive backed decal, or perforated vinyl, which you can see out of, but people can't see in. If it's for the door of your truck, consider using a magnetic decal for ultimate reusability. Tailgates and hoods of trucks appreciate having vinyl lettering applied to them, as they have significant surface areas to hold a lot of information about your company. Either way you slice it, Advantage Signs and Graphics can help you decide what kind of decal you need.
Big or small, we can do it all for your company truck decals
We have experience with both large industrial trucks and trailers as well as 4x4s and normal sized trucks. Whatever your business's decal and graphics related needs are, we would be happy to assist you in dressing up your companies truck, regardless of size, with high quality vinyl decals.
- Durable

- Cost effective

- Versatile

- 24/7 visibility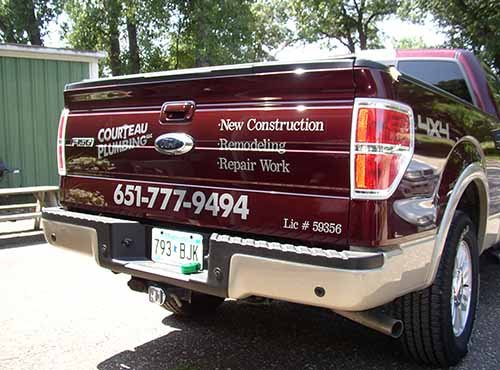 Custom decals and labels since 1988
Finishing Options
Products