Hard Hat Decals
Order hard hat decals for your next project, contact us today
Custom Hard Hat Decals
Custom Shapes hard hat decals
Full color printed hard hat decals
Reflective vinyl hard hat decals
We design, print and manufacture hard hat decals using the best quality materials available in the industry. Send us your logo / artwork and our decal designers will work with you to create professional custom hard hat decals. All decals are digitally printed on high quality printers using inks that look great, are scratch resistant and hold up outside for years. The decals are machine cut to your desired size and shape then package and shipped.

Quote
Let us know a few simple things for a quote. We can help you get the appropriate hard hat decals for your needs.

Size?
Quantity?
How long do they need to last?
Do you want them to be reflective?
Hard hat decals, a great way to add some personality to your team
- Shapes to hard hat without wrinkles.

- Least expensive with no laminate.

- No background color.

- 24/7 visibility for added safety.
Not only can you use custom stickers and decals to provide a sense of unity and professionalism to your hard hats, but you can also send us any graphic you would like to be made into a hard hat sticker. We can print any graphic you can provide us with, or we can design something custom for you.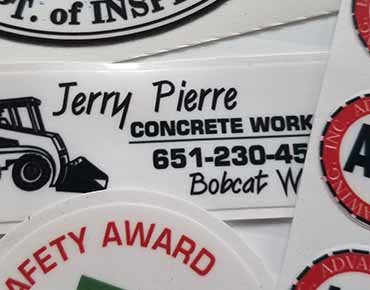 Affordable
Quality and Durability
Quick Ship
Materials Avaliable for Hard Hat Decals
Once artwork is approved your hard hat decals will ship within a few days.
We can and will expedite when needed and possible.
All materials and processes used are professional grade and will meet or exceed your expectations, we will stand behind this.
We have material options available to create the hard hat decals that are needed for your use.
Decal Options Available

Custom decals and labels since 1988
Finishing Options
Products